Addie S Hut (Cabin) and Mineral Claim
Elevation: 10,930 feet Location: N 37o 53' 28" W 107o 43' 7"

Milepost 79.9
Million Dollar Highway, US550, San Juan County, Colorado


Click on images with borders below to enlarge, BACK to return here
Click HERE for more photos and information about the Addie S Cabin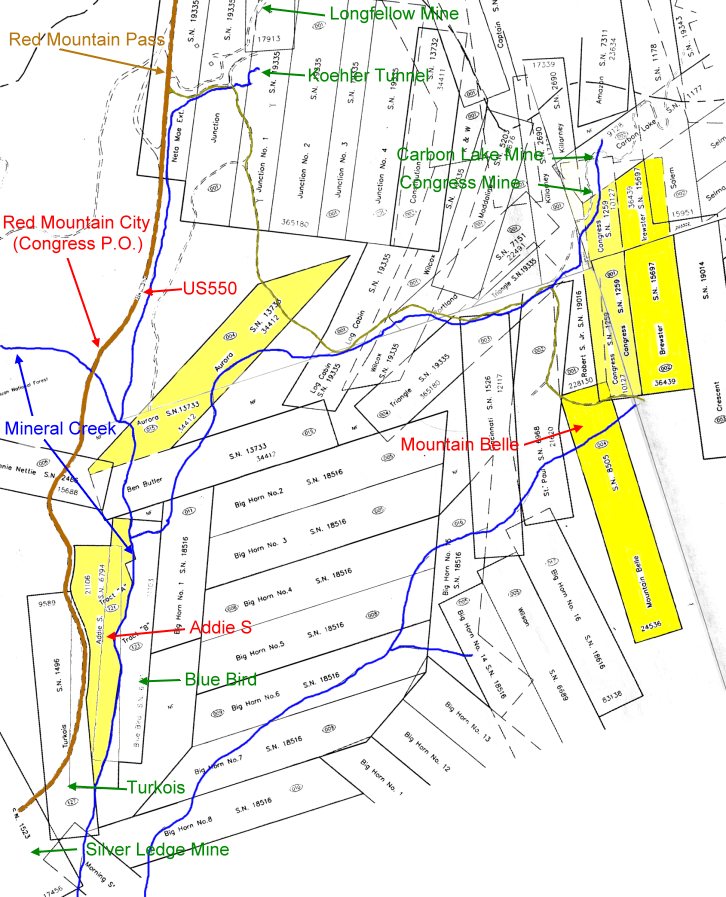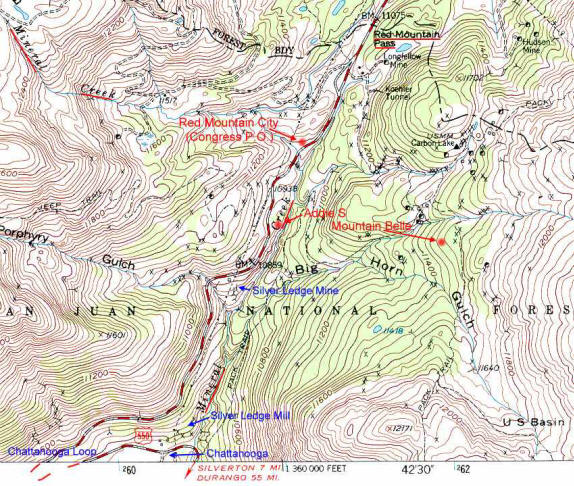 Patented Mining Claims Plat Map 1972 Topo Map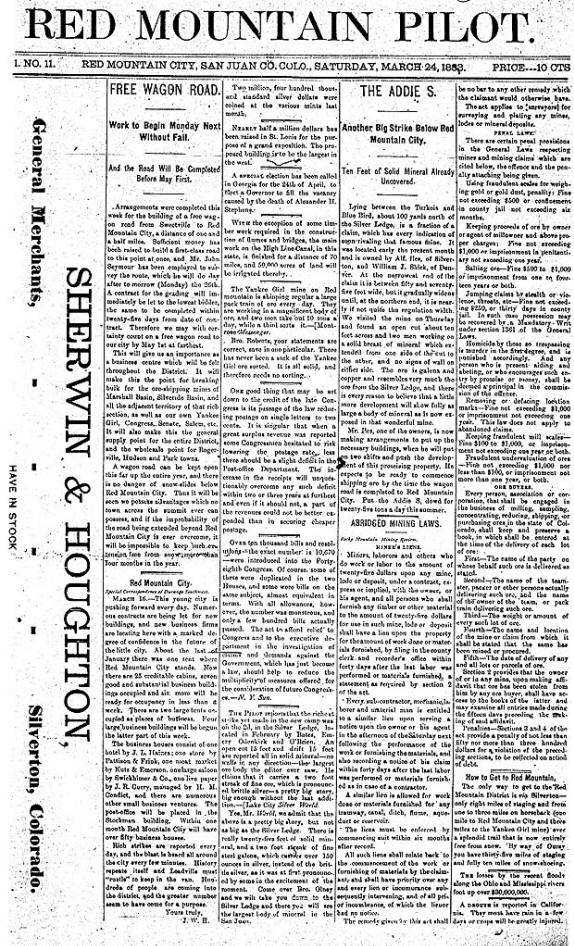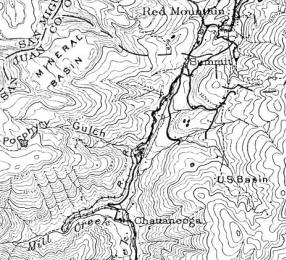 1904 Topo Map
March 24, 1883. Red Mountain Pilot "THE ADDIE S. Another Big Strike Below Red Mountain City. Ten Feet of Solid Material
Already Uncovered. Lying between the Turkois and Blue Bird, about 100 yards north of the Silver Ledge, is a fraction of a claim,
which has every indication of soon rivaling that famous mine. It was located early the present month and is owned by Alf. Iles, of
Silverton, and William J. Shiek, of Denver. At the narrowest end of the claim it is between fifty and seventy-five feet wide, but it
gradually widens until, at the northern end, it is nearly if not quite the regulation width. We visited the mine on Thursday and found an
open cut about ten feet across and two men working on a solid breast of mineral which extended from one side of the cut to the other,
and no signs of wall on either side. The ore is galena and copper and resembles very much the ore from the Silver Ledge, and there is
every reason to believe that a little more development will show fully as large a body of mineral as is now exposed in that wonderful mine.
Mr. Iles, one of the owners, is now making arrangements to put up the necessary buildings, when he will put on two shifts and push
the development of this promising property. He expects to be ready to commence shipping ore by the time the wagon road is
completed to Red Mountain City. Put the Addie S down for twenty-five tons a day this summer. [page2] There are three mines within
a half mile of Red Mountain City -`the Silver Ledge, Turkois and Addie S - which will ship 100 tons of ore per diem after May 1st."
March 17, 1883, page 2. Red Mountain Pilot "The Blue Bird, owned by Jack B and others, is located on the big glow-out, on the east
side of the Addie S. We understand Durango capitalists have offered to take a sixty day bond for $10,000 on the Blue Bird. Alfred
Iles has one of the finest prospects in the District, the Addie S. It is located at the southern limits of Red Mountain City, between the
Blue Bird and the Turkois, on the same blow-out as the wonderful Silver Ledge. W. J. Shiek, of the Denver Fire Brick Company, is
interested with Mr. Iles in this valuable property."
March 31, 1883. page 2. Red Mountain Pilot "The assessment has been finished on the Addie S, and now Mr. Iles, the superintendent,
has put a force of men to work on a cross-cut, which will tap the vein within thirty feet. Cabins are now being erected, and after this week
two shifts will be run regularly."
March 3, 1883. page 2. Red Mountain Pilot "Alf. Iles, one of the pioneer prospectors of the District and an old-time "print", has been
with us all week, assisting in getting the Pilot in running order. We have no doubt he will long remember our interesting experience of
issuing a newspaper under difficulties."
"...Sawmill operators began setting up operations all over Red Mountain country in the early summer of 1883. Blair & Quimby were to set
up a sawmill near the Addie S cabin on the Mineral Creek side... Even Thomas C. Graden got into the act, shipping sawmill equipment
to be set up near Congress in June..."2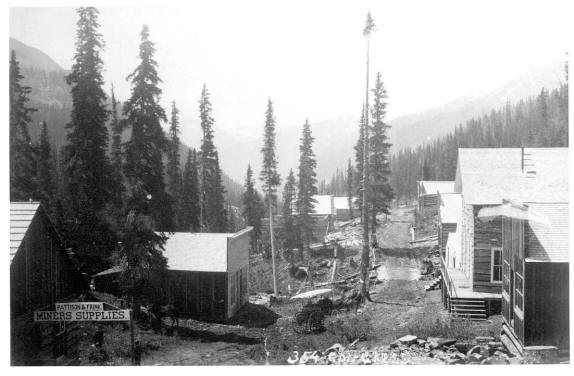 Red Mountain City (Congress Post Office), July 1883
(same view direction as photo from inside cabin below)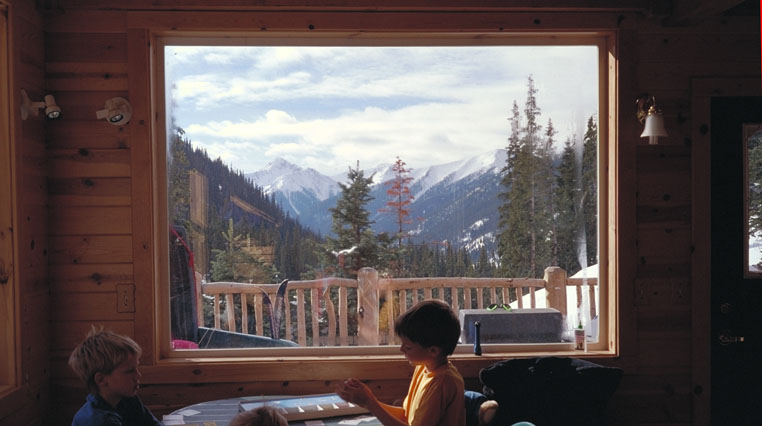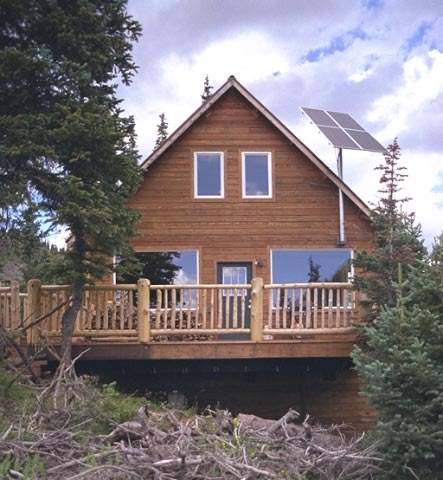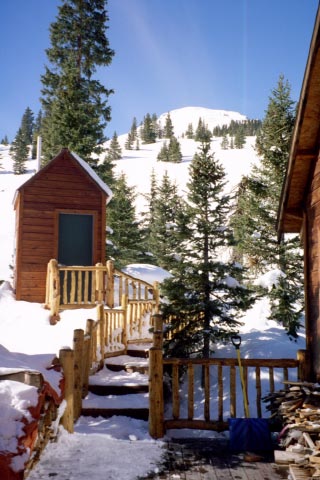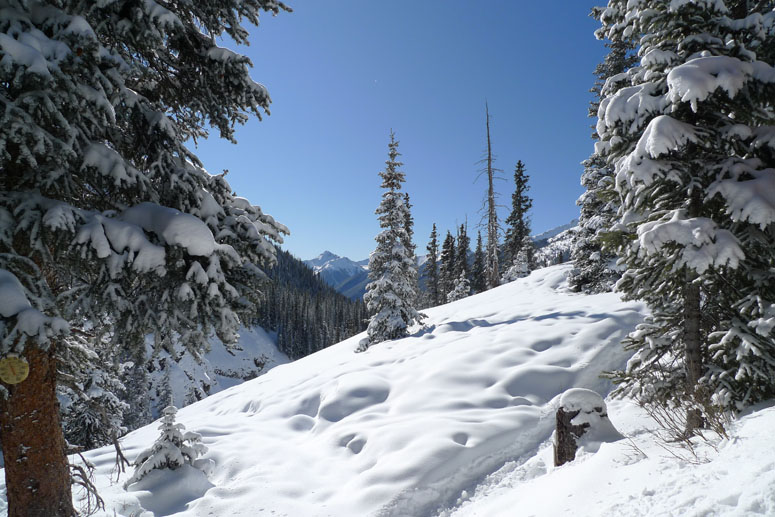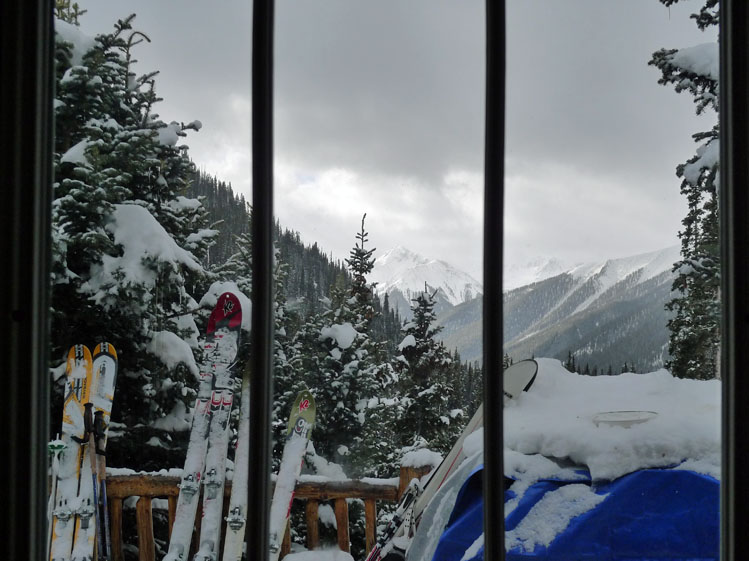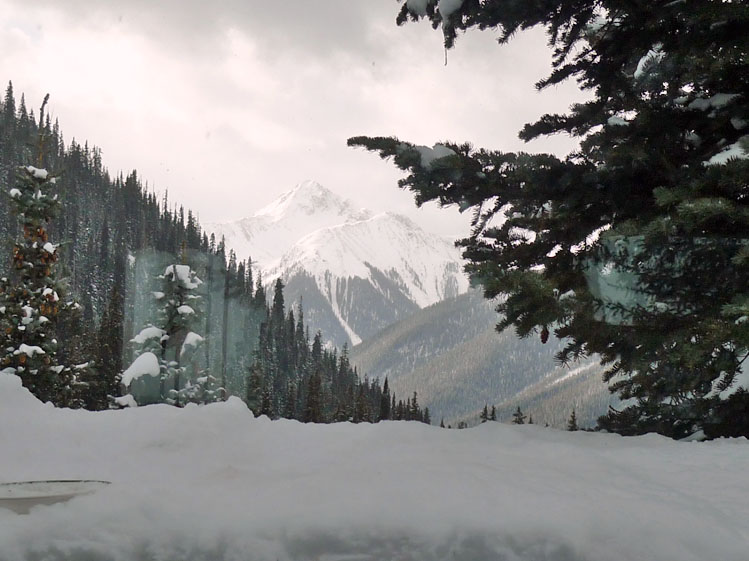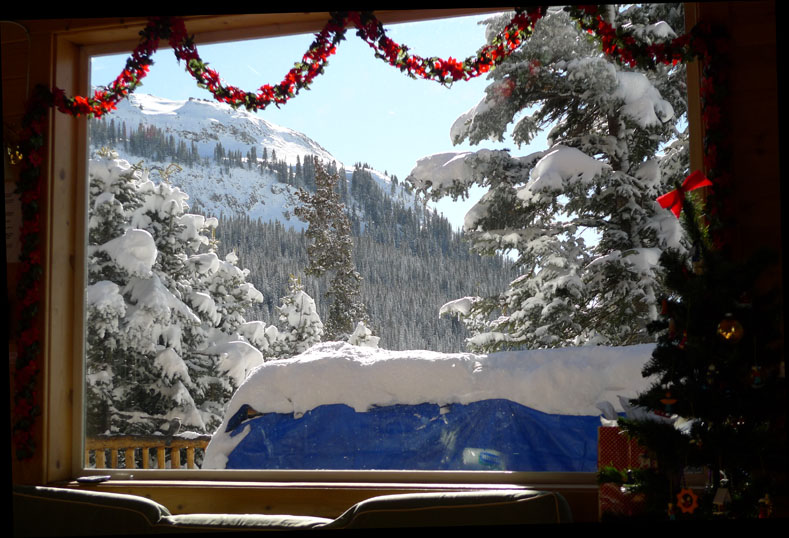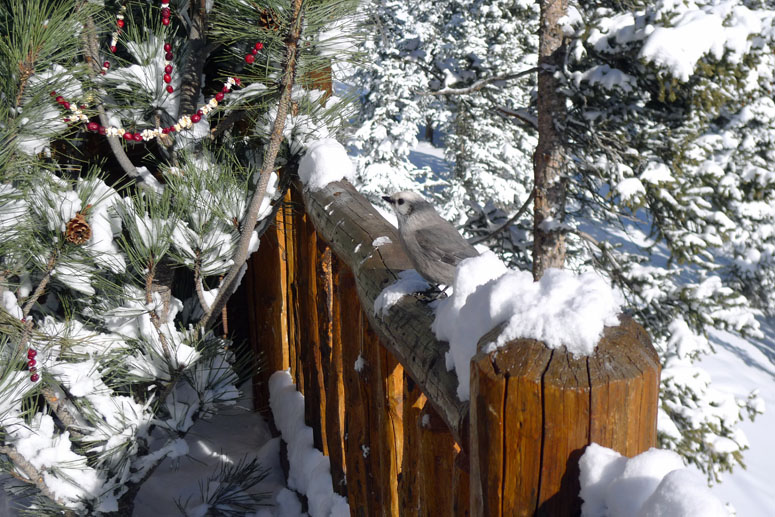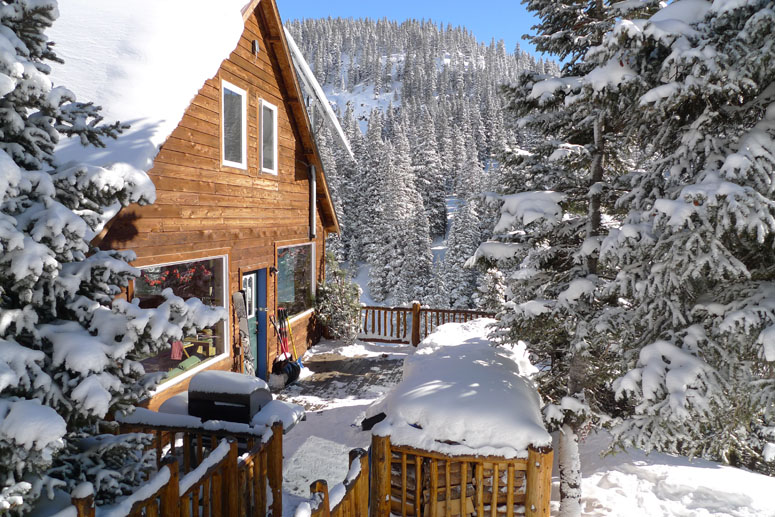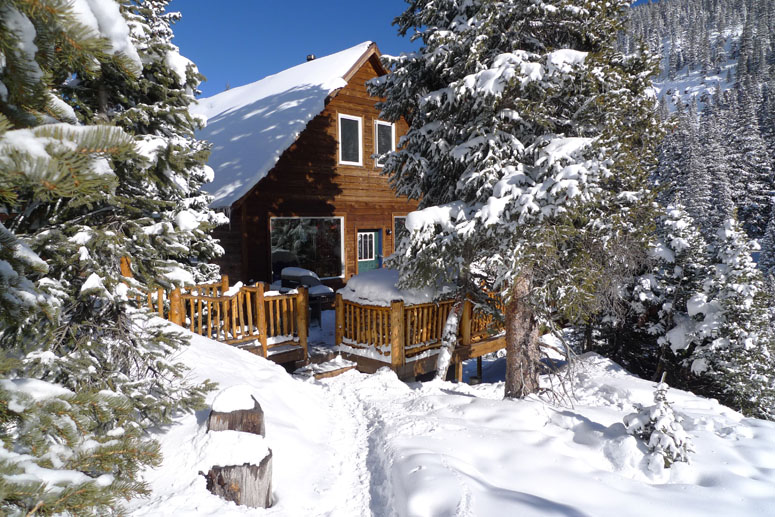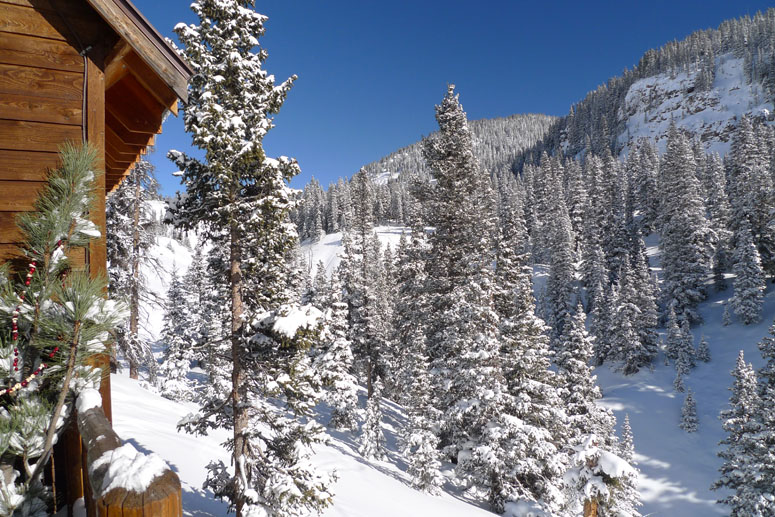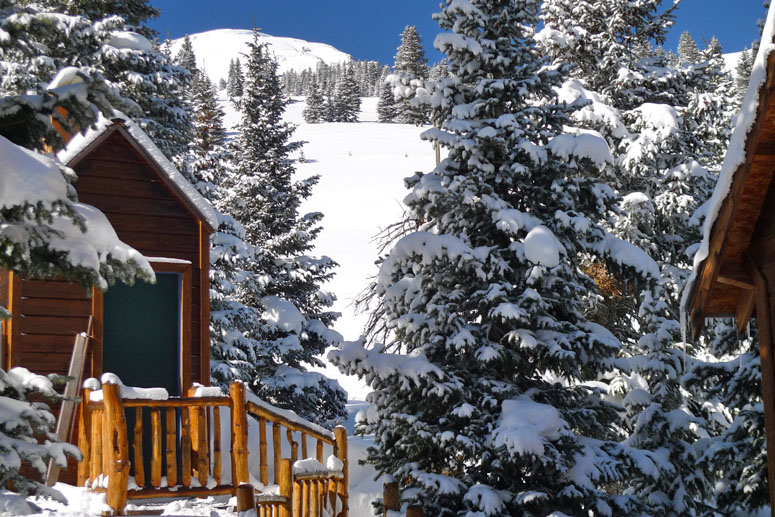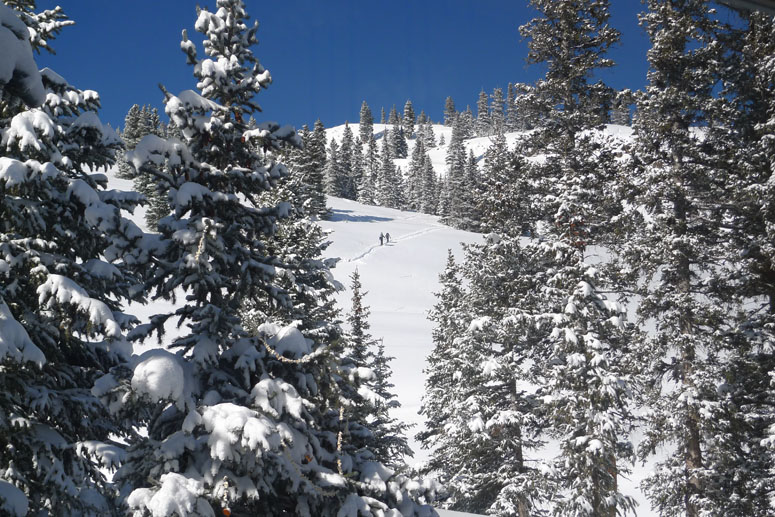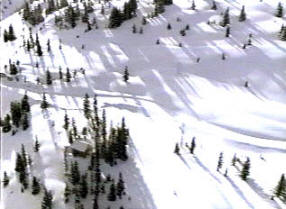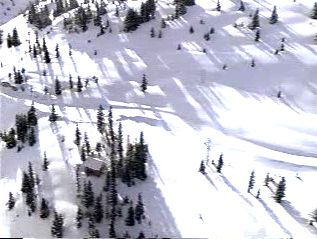 Click on image/move mouse over image above to start slow loading,
movie clip of Highway 550 from the Addies S Cabin and Mineral Claim to the Silver Ledge mine.